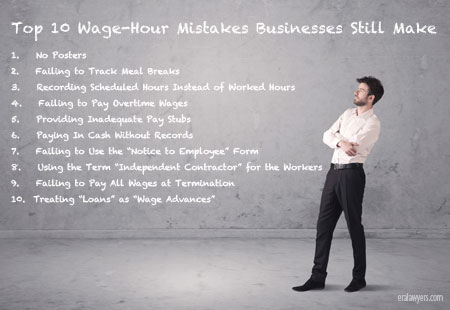 As we close out 2015 and start 2016, we notice businesses are still making the same mistakes, violating the same rules and laws, when handling their workers' wages and hours. Here is a list of the Top 10 most common wage-hour mistakes seen during 2015:
No Posters: The required Minimum Wage posters, federal and state, are not up at every location. The required Industrial Welfare Commission (IWC) Orders are not posted at every location. The required notice for workweek ending and paycheck delivery is not posted. Remember, these are all required posters, not optional posters. Some courts have held that when the poster is missing, the normal 3-year time limit for filing a wage claim is left open. Therefore, workers can file late claims and generate liability for a business, months or even years after the time limit has expired.
Failing to Track Meal Breaks: Every business in California must keep a daily record of the meal period's actual start and end times. Many businesses erroneously have their workers write down "30 minutes" on their time cards. This record does not comply with the law. The law requires keeping track of each day's "actual" time taken for the meal period. The State Labor Commissioner's hearing officers have repeatedly advised that when only the "scheduled" time is recorded, the government automatically assumes the records are inaccurate or false.
Recording Scheduled Hours Instead of Worked Hours: Both federal and state law require the business, not the worker, to keep an accurate record of actual hours "worked." The laws do not require a record of the actual hours "scheduled." This rule applies to all hours in addition to meal period hours. Many businesses assume that keeping work schedules for 3 years is enough to comply; that notion is wrong. Keeping records of the actual hours worked is what is required.
Failing to Pay Overtime Wages: California businesses must pay time and one half the regular rate after 8 hours in a day and after 40 hours in a week. Double time the regular rate is due after 12 hours in a day, and after 8 hours worked on the 7th consecutive work day in the same workweek. Businesses paying twice per month, or every two weeks, often pay overtime wages after 80 hours, or 88 hours. And semi-monthly payers forget to look at the "split week" that occurs with virtually every payroll, in order to calculate the overtime hours for that split week.
Providing Inadequate Pay Stubs: Along with each pay check (whether payment is in cash, check, or direct deposit) each business must supply at least 9 different types of information on the accompanying payroll stub. Those 9 types of information are mandatory, specific, and easy to miss. For example, many businesses fail to include the actual "corporate" name for the business, and instead violate the law by having the pay stub show on the d.b.a. name. Thousands of California workers this past year received penalty pay for these pay stub violations.
Paying In Cash Without Records: You are allowed to pay your workers in cash. But you must keep records of the cash payments made. Paying cash "under the table" in order to "help both sides" with taxes is improper under several different laws. Whenever cash is paid to a worker, a record must be made of the payment, the pay stub must reflect the cash payment, and deductions must derive from the payment.
Failing to Use the "Notice to Employee" Form: California requires businesses to give each new hire a Notice to Employee form (see Labor Code Section 2810.5). Among other items, that form identifies the legal name of the employer, pay rates bing paid, whether commissions are paid, the worker compensation insurance carrier, and the policy on Paid Sick Leave. Most new small businesses are completely failing to complete this form for newly hired workers.
Using the Term "Independent Contractor" for the Workers: To frustrate small businesses in California, each state and federal government agency has its own separate definition for "employee" and "independent contractor." Even the IRS has a special 20-factor test for describing who is a "worker" and who is not, and that IRS test has not been adopted by the other state and federal agencies. At least 10 different legal problems arise from misclassifying workers as independent contractors, only one of which is the $25,000 fine the state can impose for failing to list that worker on the worker's compensation insurance policy. And for weekly paid workers, failing to issue the pay stub each week (because of the misclassification) results in an immediate $10,000 penalty under the Labor Code. Never classify a worker as an independent contractor without legal advice first.
Failing to Pay All Wages at Termination: Employers who discharge a worker must ensure the employee is paid "in full" as of the date of the discharge. Workers who quit must be paid within 3 days of their resignation, or on the effective date, if notice is given at least 3 days in advance. Payment "in full" means that all wages, overtime, vacation, PTO, premium wages, and other forms of wages are due in full on the date of discharge or resignation. The government does allow a reasonable time to compute any bonuses or commissions due, but those amounts must be paid no later than their customary payment deadlines. Always notify terminated workers of your belief that wages have been paid in full, and ask the worker in writing to let you know if your calculations are not accurate.
Treating "Loans" as "Wage Advances:" When a business provides a "loan" to a worker, that amount is not normally recoverable from the worker's paycheck, unless the contract for the "loan" provides as much. Making a wage "advance" to a worker is a much safer mechanism for a business' ability to recover the wages advanced, but the employer must comply with several rules to ensure the amount given to the worker is an "advance" and not a "loan." A huge misunderstanding among small businesses is that the "loan" can always be recovered from the final pay check. That notion is absolutely incorrect.
Remember: Whether you are dealing with posters, meal breaks, records of hours worked, overtime wages, payments in cash, loans, final pay, or notices on pay stubs or at hire, please consult with a competent employment attorney to ensure your business practices comply with both federal and state laws.